If you like crude humour then
Ted
is right up your street. If you don't then it is not, as my girlfriend found out, who hated this film. Me on the other hand, I rather enjoyed it!
Written, directed and starring
Family Guy
creator Seth MacFarlane,
Ted
's plot goes like this; 'As the result of a childhood wish, John Bennett's teddy bear, Ted, came to life and has been by John's side ever since - a friendship that's tested when Lori, John's girlfriend of four years, wants more from their relationship.' A pretty straightforward plot, a pretty straightforward film, with quite a few laughs in between.
Actually it is the start of this film that gave me high hopes for this to be an excellent comedy film. It is unfortunately after the first act that the film falls short of that. After the first 30 minutes the jokes start to slow down and become less funny. A hilarious party scene in the middle of the film brings back this hope but unfortunately is let down by a lacklustre third act.
The problem with this film was that the talking teddy bear was the most realistic part of it! The relationship between Mark Wahlberg and Mila Kunis was unbelievable and did not feel real. All of Mila Kunis's lines felt forced, which was such a shame as she is generally a really good actress! Mark Wahlberg is much better in a comedic role as you are actually allowed to laugh at his acting but unfortunately this made most of his more human scenes pretty rubbish, therefore not allowing the audience to become emotionally connected to any of the characters, which pretty much makes the last act fall apart. This is mainly because the third act asks us to worry about these characters when in danger and by this point you couldn't care less.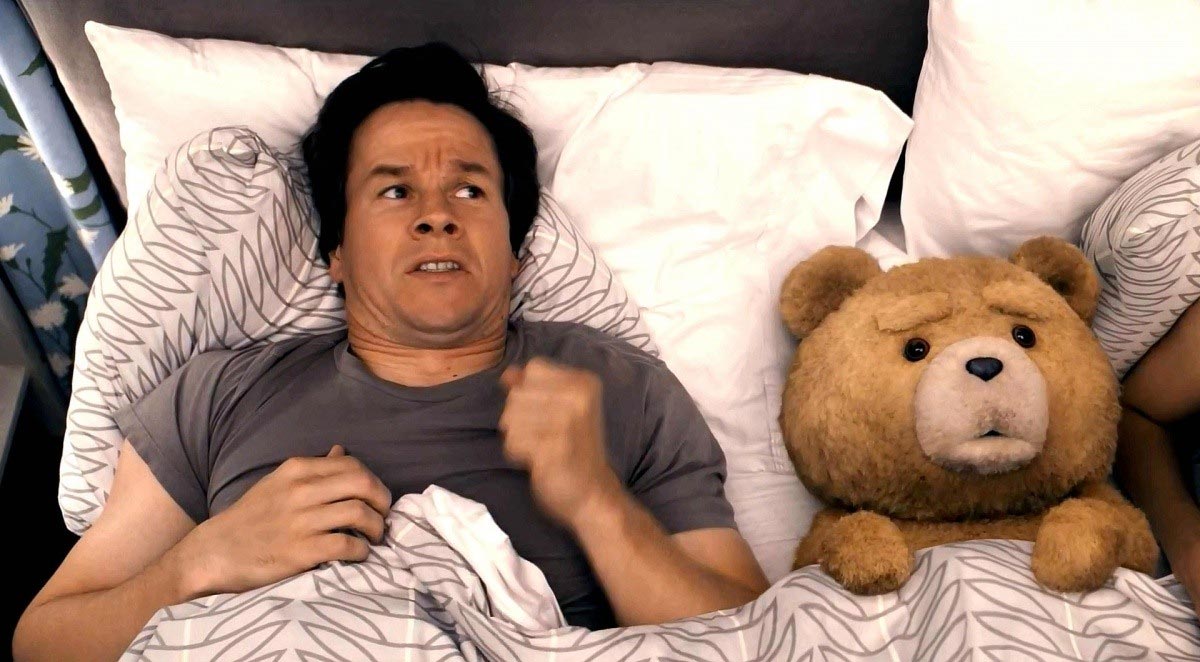 This film is a comedy film so you shouldn't care about the story too much and just wait for the laughs to come. And there are quite a few really funny ones and there a re quite a few that aren't so much. So you get your fair share but at least it had more laughs then
The Sitter
did earlier this year!
As I said at the start the jokes are crude and are likely to be about farts or will just offend a few people in the audience. Like
Family Guy
it can be racist, homophobic and will take the mick out of fat kids but what more do you expect from Seth MacFarlane?
Ted himself looks pretty impressive and thanks to the magic of motion capture I did not once believe I was watching a bear made of CGI, though every now and then thought I was listening to Peter Griffin!
There are some great moments in this film and also some excellent cameos but what it falls short of is emotional connection. But what the hell, it's a comedy! And although its not as good as some this year like
21 Jump Street
,
it's still on of the better side of the list! If you are a fan of
Family Guy
then you will probably really enjoy this! Though it wasn't perfect I still enjoyed
Ted
and had a good laugh. So therefore I am giving
Ted
a rating of
3/5
.
In other news, Joss Whedon has been confirmed to write and direct
The Avengers 2
!!! This is awesome news! Bring on the next 3 years of anticipation! Joss Whedon is also helping develop a TV show for ABC that will be set in the Marvel cinematic universe. No announcements on what it's about but my guess it will be about the agents of S.H.I.E.L.D. What do you think?
Thanks for reading!