It's been too long. 8 years too long since Gotham has seen Batman and 10 days too long for me to see
The Dark Knight Rises
, but I have seen it now and yes my mind was blown. Although most of you reading this have probably seen the film, for those who haven't this review is spoiler free.
'Eight years on after the events of
The Dark Knight
, a new terrorist leader, Bane, overwhelms Gotham's finest, and the Dark Knight resurfaces to protect a city that has branded him an enemy.' This plot is a vague outline of the film but like all Christopher Nolan films there is much more happening then you first think. Although this is a story about Batman and Bruce Wayne, a lot of time is given to the supporting characters as their arcs have a huge impact in the end. New supporting characters to the final instalment of The Dark Knight Trilogy include Anne Hathaway as Catwoman and Joseph Gordon-Levitt as John Blake. Both proving essential to the plot and both being nothing but awesome.
A lot of people have been saying that Anne Hathaway steals the show but for me it is Joseph Gordon-Levitt who has a much larger part in the film then I first anticipated and as usual he gives an incredible performance. Anne Hathaway is still very good though. Although never referred to as Catwoman, her take on the character is the best yet, she is kick ass and gets most of the gags. All of the performances in the film were top notch as well. Christian Bale as usual gives a thrilling performance that brings Bruce Wayne's story full circle. Micheal Caine as Alfred is just perfect as is Morgan Freeman as Lucius Fox and Gary Oldman as Commissioner Gordon.
Tom Hardy also plays a great villain. The Joker is out and this time Bane is in. Unlike previous villains, Bane is a physical challenge for Batman, bringing some awesome fight sequences that will make you hold your breath in agonising awe of the end result. That's the great thing about Nolan's Batman films, unlike other superhero films you don't know whether your hero will make it out of the film alive. Tom Hardy is just great and is really menacing in the role, no wonder all of Gotham is scared of him. The guy is the new Darth Vader but with a foreign accent and less breathing problems. I also had no problem with hearing the lines as was previously feared from early footage. Even Batman's voice was slightly toned down making it less laughable.
The film still has a serious tone and theme that the previous films had but this still has quite a few laughs and feels a lot more like a comic book movie then
The Dark Knight
did, not completely though. This still is a long way off the tone of
The Avengers
which makes comparing them very hard as both feel completely different. You could even argue that this wasn't even a superhero movie as we don't even see Batman for the middle section of the film, emphasising the fact that this is Bruce Wayne's story. If this wasn't a Batman film it would still be as good!
As usual, Hans Zimmer's soundtrack is spot on and really heightens emotions throughout the long film. A long film that never bores and kept me on the edge of my seat throughout. Although it was 10 minutes longer then
The Dark Knight
it definitely did not feel like it at all!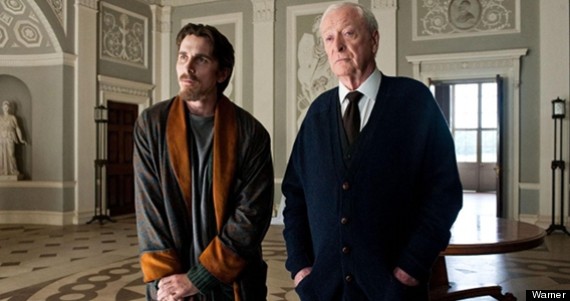 Being the final instalment of Christopher Nolan's trilogy the ending had to round off all the character stories he had created in the first two films and it certainly did this and more! The final act of the film for me was completely perfect and gave me goosebumps throughout and even a few tears to my eyes. An ending that was more then I could have hoped for as a farewell to a Batman that will go down in cinema history. It lives up to its hype and is one of the best films of the year so far. To me
The Dark Knight
is a fraction better but never the less
The Dark Knight Rises
is definitely a
5/5
.
Thanks for reading!
P.S I am happy to announce that my blog in now a member of LAMB, The Large Association of Movie Blogs. I would like to say thank you to LAMB for accepting me and thank you to all those who are now reading this after being directed from the site, I hope you carry on reading all my posts to come!