Nightcrawler
was pretty much unknown to me until about a couple months ago when the excellent trailer came out. I knew straight away it was something I really wanted to see. Unlike last week's
Fury
,
Nightcrawler
did not disappoint at all.
The film follows Lou Bloom, a man who is in desperate need to make it in the world. He finds himself in the world of crime journalism and becomes a freelance nightcrawler, filming urban street crime for news channels.
Lou Bloom is a very weird guy. He's intense, creepy and has a dark side which comes into play when he starts to blur the line between observer and participant in the crimes he is filming. Bloom is played by Jake Gyllenhaal, who is at the best he has ever been in this film. Gyllenhaal is pretty much unrecognisable in Nightcrawler and lost a bunch of weight to play the character. Bloom may not be a character you particularly like but he is so interesting and unpredictable that you will be on the edge of your seat for the whole duration wondering what crazy stuff he will be doing next. He isn't a character you sympathise with, but you will see a man who has been shaped by the economic climate and has also been overloaded with a bunch of information from the Internet on how to make it in the world. Jake Gyllenhaal should definitely being seeing some Oscar nods for his incredible performance. Other great performances come from Rene Russo who is excellent as news director Nina. And Riz Ahmed who plays Lou's partner Rick, also really good in his role.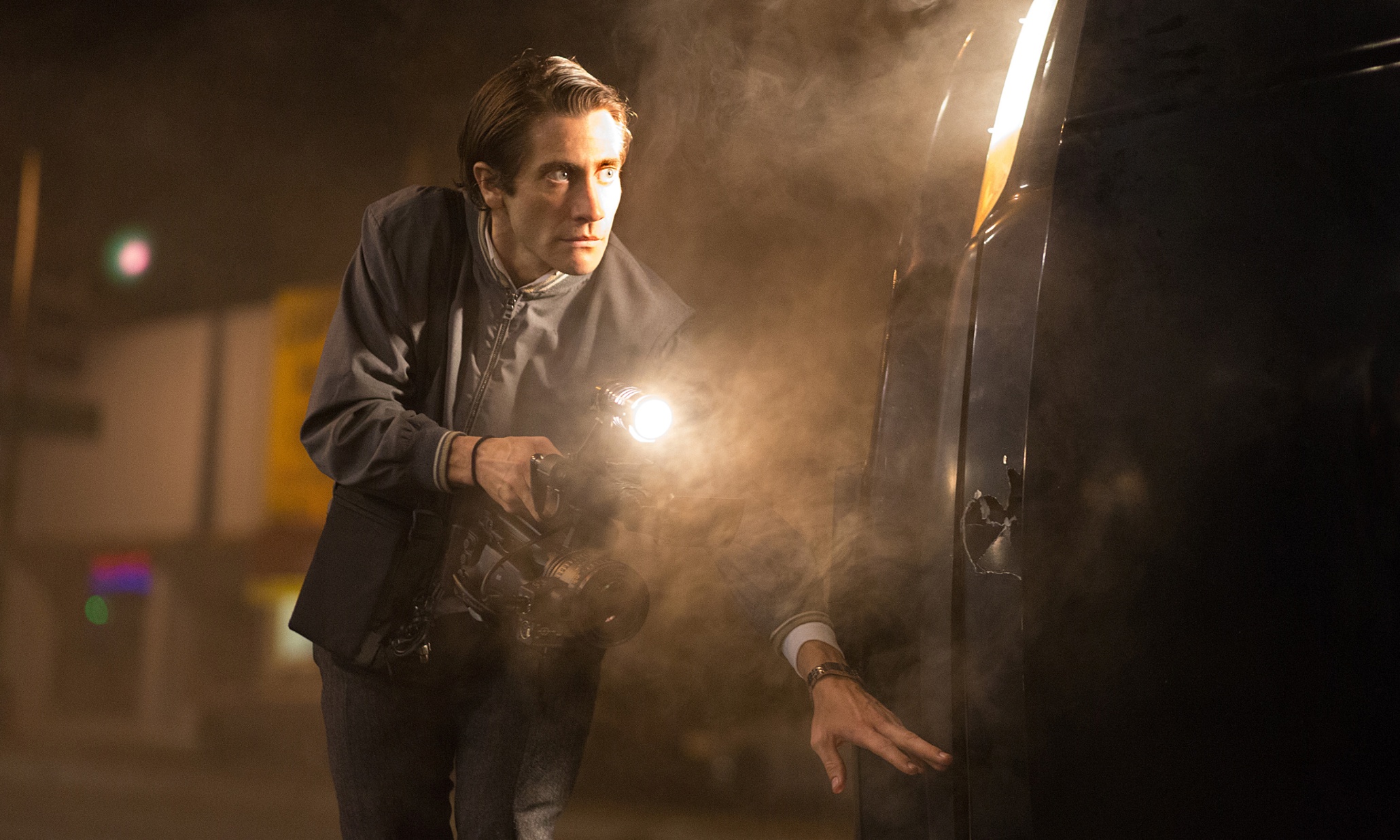 The film is really dark and is very good critique of media culture, especially news corporations and the lengths they will go to get their ratings. It may not be as subtle as the message was brought across in
Gone Girl
but it still is a lot of fun and very thrilling film to watch unfold. The relationship between Lou and Nina is played out really well and although it goes to some really messed up places it is never unbelievable. I found it similar in theme to
Breaking Bad
, with idea that bad guys make it in the world whilst the good ones get left behind.
The cinematography is great, the film is very good looking and portrays the streets of downtown L.A as dark, gritty and a scary place to be. This is the directorial debut of Dan Gilroy, previously a writer of films such as
The Bourne Legacy
, and he has gotten off to one hell of a start. As an aspiring filmmaker myself, one could only dream of writing and directing a film as good as this to begin with, I can't wait to see what he does next.
As you can tell, I really, really loved
Nightcrawler
. It is definitely one of the best films this year and I hope it generates a lot of awards buzz. I am giving this excellent film a rating of
5/5
.
What did you think of
Nightcrawler
? Let me know in the comments below.
Thanks for reading!