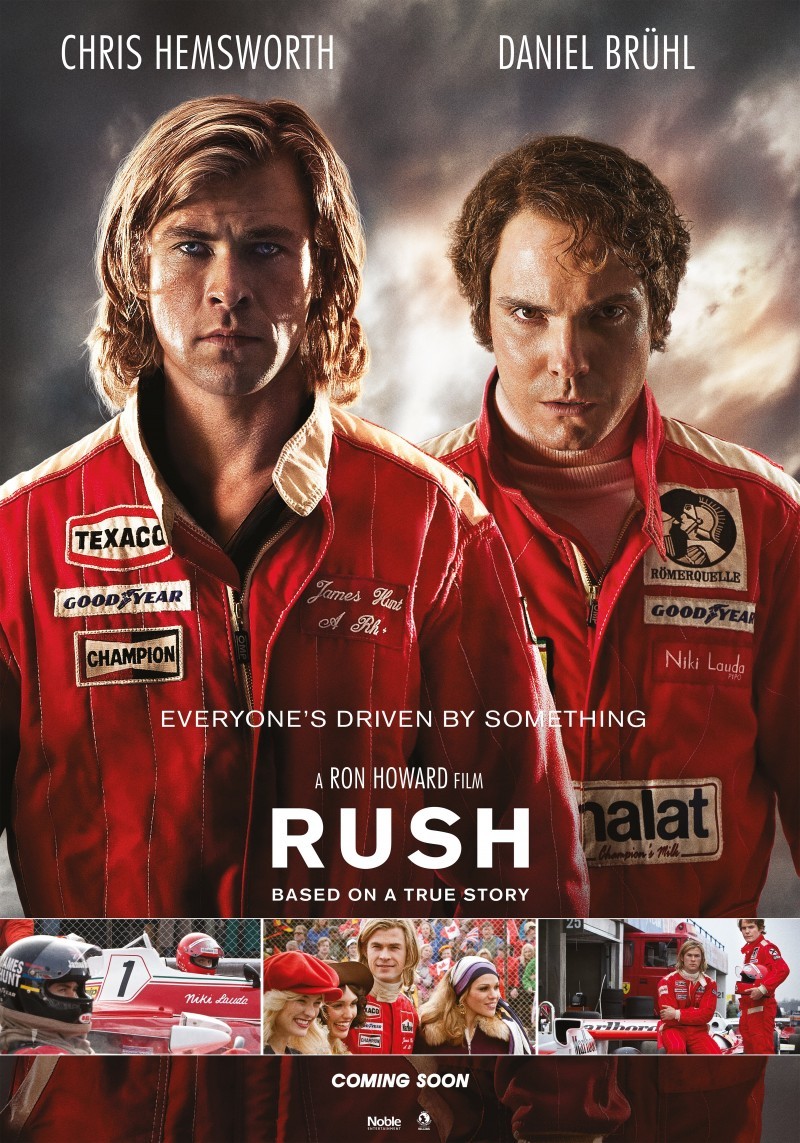 You do not need to be a fan of Formula 1 to watch and enjoy Rush. All you need to be a fan of is great stories and tremendous film making. Fortunately for me, I am a fan of all three and absolutely loved Rush and believe it to be the best film of the year so far!
Rush tells the incredible true story of the rivalry/friendship of Formula 1 drivers James Hunt and Niki Lauder. As an F1 fan I am aware of this story but it was great to see it unfold on the big screen that truly captured the narrative in an exciting and emotional form. One of the greatest things about seeing the film is the brilliant casting, the actors were almost identical to that of the real people involved. Chris Hemsworth and Daniel

Brühl give off the best performances of their careers whilst looking perfect as Hunt and Lauder. With the Oscars already starting to be a talking subject I could definitely see their names being thrown about as well as the film itself.
The film has a very stylish look and it seems hit and miss director Ron Howard has put a lot more effort into
this film compared to his last effort with the
disappointing
The
Dilemma
. The film takes you straight back to the 70's with it's excellent cinematography that recreates races perfectly and puts you in the drivers seat getting up close and personal with the drivers themselves. All with a nostalgic
aesthetic and an awesome score from Hanz Zimmer
that makes this film feel very, very cool.
But it's not really about the racing, although it does play a big part in moving the story forward, it's more about the two maverick drivers. Both different, both with pro's and con's that make you empathise with each driver in different ways. The script by Peter Morgan is very good at not making you root for just one of the driver's but seeing the different points of view of both.
The dangers of F1 are considerably lower now than they were in the 70's and the film questions what type of men wish to risk their lives racing cars, men who have nothing to lose?. These questions of morality and love make
Rush
deeper then just your average biopic and Ron Howard succeeds in making one biopic about two men and events that would change both of their lives. The film is a fast paced emotional rollercoaster from start to finish, that packs a punch for audience member whether they be F1 fans or not.
Rush
is not just the best film of this year, it is also one of the best I have ever seen, a truly inspiring work of film making that I am giving a rating of 5/5.
Did you love Rush as much as I did? Let me know in the comments below.
Thanks for reading!